About Nature in Spirit Travel
Nature in Spirit Travel is a company that originates from Arusha, Tanzania; but in fact we organize tour itineraries in 3 different countries of Africa: Tanzania, Kenya and Rwanda.
We're unique in many aspects, our number one priority is customers satisfactions. We go above and beyond measures to meet our customers' expectations by giving them the experience of life time that they will never forget in their life circle. We take them to places they have never been before or they have never thought of going there, seeing it, testing it, hearing it, touching it and smelling it.
We do this by connecting our travelers with locals and really give them the opportunity to meet the locals, learn about them, interact with them and get to understand how they live in their countries. This is an addendum on top of the safari package they booked.
We have started Nature in Spirit Travel on the basis of three principles:
Being a part in preserving nature – We're actively engaging our resources and moral support to nature conservation initiatives in the regions we currently operate in. Our director Sayuni likes to say that 'Nature is Life' and her obsession with Nature has been imparted to the whole Nature in Spirit Travel team.
Sharing the beauty of Africa's nature with the rest of the world – We don't believe that there are so many people out there who knows Africa more than we do, that idea doesn't cross our minds hence we're passionate to show the wilderness of Africa to people of all races, religious beliefs or age.
Breaching the gap – We have recognized the gap between travelers & tour operators within the tourism industry, sometimes as tourists ourselves, so we are dedicated to breaching that gap and make the travel planning for the holidaymaker far less stressful. Our primary mission is utmost customers' satisfaction, as we believe that maintaining very high level of commitment and the dedication in providing bespoke service will be the best approach to start treating tourists as friends. We are represented on SafariBookings.com.
For all of you who wish to create memorable holiday memories, with Nature in Spirit Travel your trip planning is simplified. Be it a Family holiday, Honeymoon vacation or group tour, we like to make things simple, sedure and fast. Your African tour begins here with us.
KARIBU SANA!
Our obligations in reducing plastic in communities and enabling people have safe and clean water.
To donate a fund for preservation/restoration
The need to improve clean and safe drinking water to local communities is high therefore Nature in Spirit Travel would like to donate to the local community whereas, the fund will come from the benefit we earn after selling each package to our beloved travelers. Travelers will have a chance to donate a ceramic water filter in a household that will provide clean and safe water to the local communities to help eradicate water borne diseases and reduce usage of plastic in the communities. Ceramic water filter are filters made locally from a mixture of clay soil, sawdust and the colloidal silver and fired to a very high temperature which purifies water and has 99.99% microbial effectiveness. The filter is simple and easy to use as it only requires cleaning from time to time, environment friendly and a family that benefits a filter will save money for medical bills and no need to use fuel to boil water. We therefore work closely with Wine to water East Africa to provide Safe and clean Water to the local communities.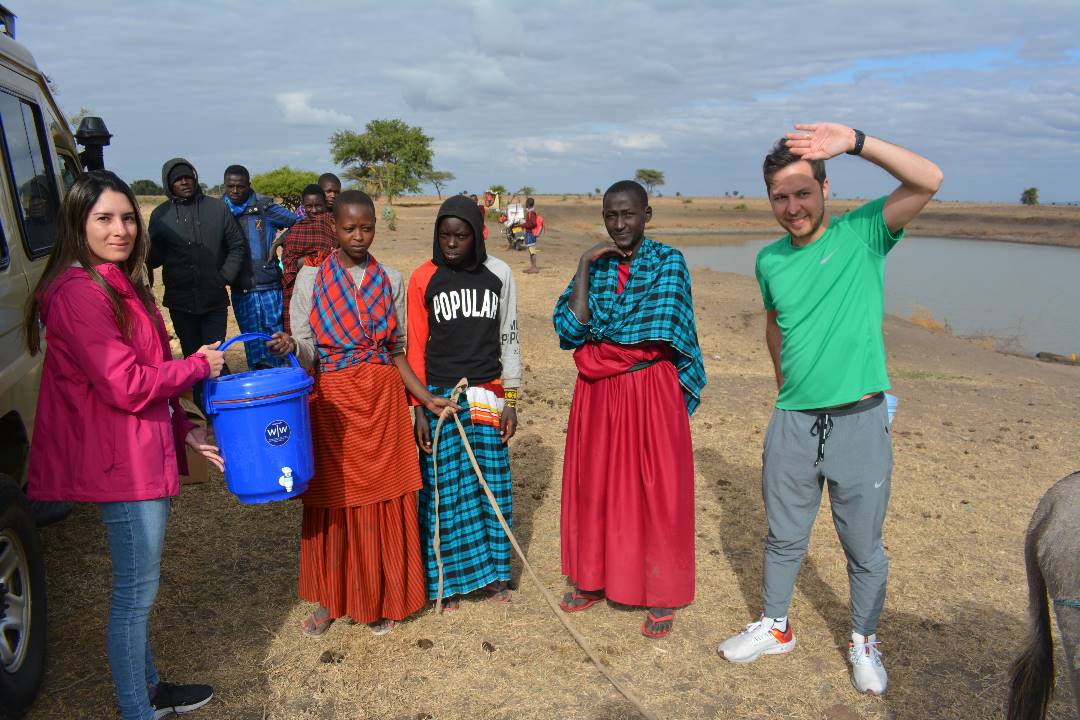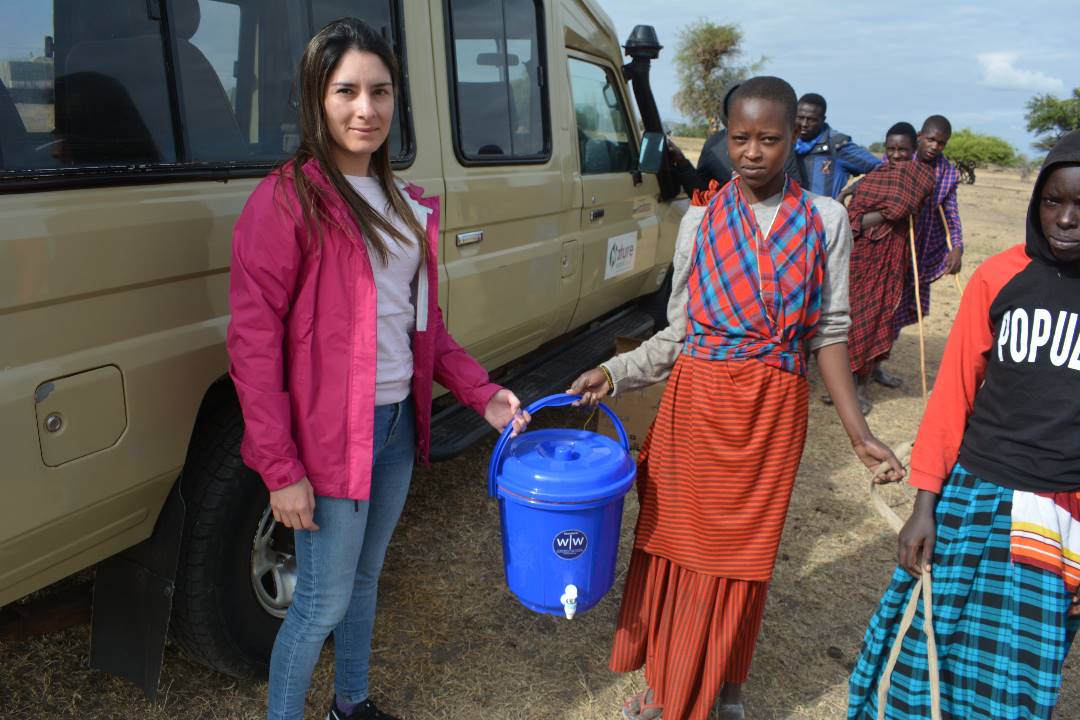 Position: Operation Director
Name: Sayuni Mollel
Education: Degree in Tourism & Cultural heritage
Language Spoken: Swahili and English
Passion: To share the beauty of her country with the rest of the world and nature Preservation
Operation Director
Being raised by a prominent tour guide parent in Arusha, Sayuni has a lifetime experience in the tourism industry and her life has been surrounded by well-preserved nature since she was born. Nature is everything for Sayuni and she has unconditional love for it. For her, nature means life itself.
Her obsession with nature wasn't only triggered by the life benefits her family harnessed through farming and livestock keeping, but also by understanding that the name & reputation her father built in the tourism that has become a pride for the whole family would be nothing without nature.
Crossing around Doli Estates, close to Arusha National Park, every day during her younger days Sayuni was able to notice many different animals within the park. Mesmerized by the beautiful flora and fauna she encountered on her way to school, wildlife became a major part of her life and she immediately realized that she is obliged to do something for nature.
Sayuni had a goal that she couldn't achieve before the year 2020, when she decided it was the best time for her to start Nature in Spirit Travel and use it as a platform to share the beauty of nature with the rest of the world while engaging in a lifelong call of preserving the nature.
At the age of 25 Sayuni pursued her bachelor degree in Tourism & Cultural heritage, she is now overseeing the growth of Nature in Spirit Travel. Her main vision in life is to reveal what role nature can play in liberating communities' economy and mental well-being. Seams a hefty target, but she won't rest until achieves it.
Our Trip Experienced Naturalists
Nature in Spirit Travel would like to introduce to you our organized team of trip experienced naturalists, simply known as safari guides. Meet with a team of safari naturalists who will take you through various attractions during your safari. It is much safe for us to say that enthusiasm is the most important part for our experienced naturalists while on safari with our beloved customers. Our trip naturalists are equipped with several abilities such as good communication, passion, sense of humor, detail-oriented, empathy, and organization skills. Every trip Naturalist has a unique character to offer during the safari.
Name: Salim Mgonja
Specialized In: Birds and wildlife
Language Spoken: English
Passion: Meet with different people and share the History of Tanzania
Name: Grace Ayo
Specialized In: Wildlife and Birds
Language Spoken: English
Passion: Passionate in photography
Other Necessary Information: Female Tour Guide, Leader in filming trips and women groups
Name: Matius Ole Nasira
Specialized In: Wildlife
Language Spoken: English, Spanish, Italian, and French
Passion: Nature
Name: Hadji Abdul
Specialized In: Wildlife and Botany
Language Spoken: English and Spanish
Passion: History
Name: Frank Mollel
Specialized In: Wildlife
Language Spoken: English and French
Passion: Culture and history
Our selected accommodations
We use small boutique accommodations that are basic but offers best services and are on best locations for game viewing. They are highly environmental conscious and good partners in hospitality industry.
Our vehicles
Our vehicles are well maintained with heavy duty suspensions to confront magical rough roads, equipped with all the necessary tools that will be needed in case of any emergencies or breakdown in the bush.
They're equipped with all safari gears like charging system, Fridge, WIFI onboard, Radio calls, first aid kit, Hand sanitizers, sand bags for photography, extra pair of good binoculars, Flashlight, GPS, potable camping chairs and table for picnic lunch or breakfast in the bush, Shade tent, Hamper full of tea/coffee and meals utensils.
We also stock our vehicles with snacks, refreshments like water, soft drinks and beers for our customers to enjoy while watching game on exclusive areas away from crowds.
Are you interested in African safari?
Let our experts help in organizing your holiday.