Hot Air Balloon Ride/ Balloon Safari
Are you planning your safari?
Let us help you create the right choice.
A hot air balloon ride is a spectacular way to experience African wildlife and breathtaking scenery from the sky. Balloon Safari is an exceptional and fascinating experience on most Tanzania Safaris. It is unquestionably a once in a lifetime experience that every client would like to add to their bucket list. Serengeti National Park and Maasai Mara National Reserve are stunning locations teeming with wildlife, making hot air balloon safaris a thrilling memory for visitors.
You can spot thousands of ungulates as far as the eye can see in the Serengeti's endless plains, including wildebeest, Zebras, Gazelles, and Impala. What a breathtaking once-in-a-lifetime opportunity! Seeing African big cats like lions, leopards, cheetahs, and other predators in their natural habitats is a great way to enjoy the beauty of Serengeti. Balloon safaris will give you a chance to witness the truly scenery of the African wilderness.
The hot air balloon journey begins early in the morning, it takes approximately 45 minutes to an hour. It only lasts a few minutes, but it is really an unforgettable event. This is a once-in-a-lifetime safari that will make your dreams come true. Flying over the Serengeti and exploring its endless plains and animals is amazing. If you are looking for everlasting memories, a hot air balloon ride should be on your bucket list.
Your pilot will take you through the most breathtaking gaming areas, where you will have the best views of wildlife and scenery. You will have the opportunity to capture incredible photos that you have never had before. After such an incredible experience, you will celebrate for achieving such an amazing experience, an opportunity to enjoy a champagne and a bush breakfast.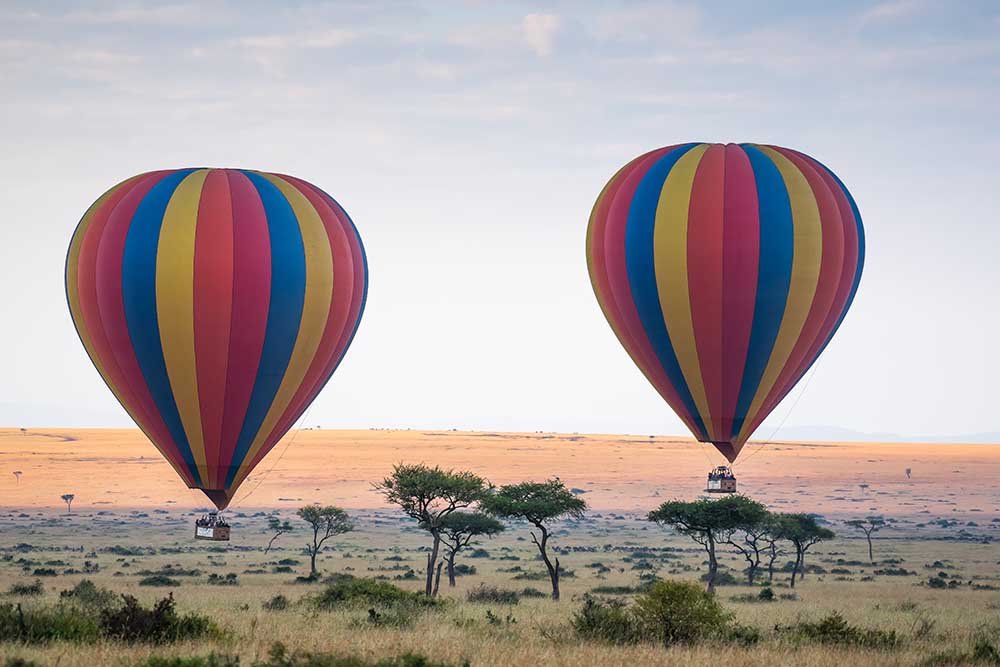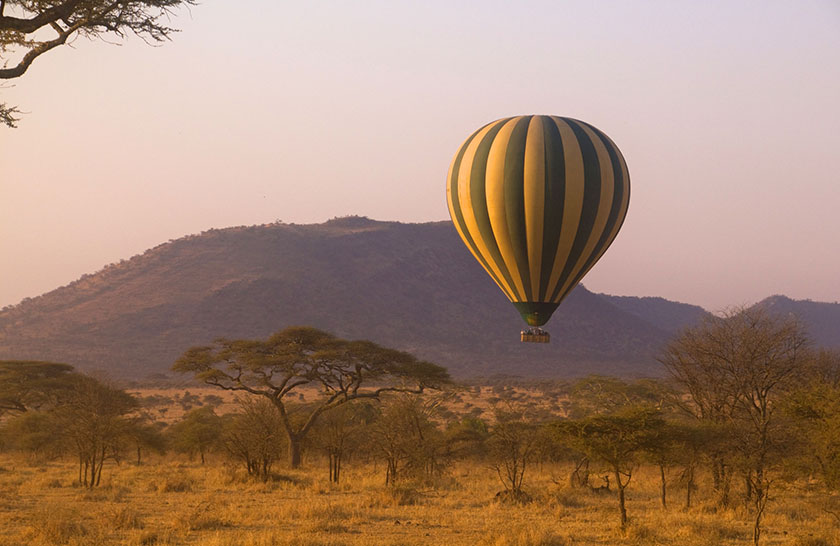 Locations to Explore Hot Air Balloon Ride
Hot Air Balloon Ride in Kenya
The Maasai Mara National Reserve is the best place to enjoy a hot air balloon ride in Kenya. The area is breathtaking, with thousands of ungulates crossing the Mara River and gathering in the area for mating season. It usually takes place from July to October, but Maasai Mara Balloon Safaris are magnificent all year due to the presence of the big five and other wildlife.
Hot Air Balloon Ride in Tanzania
Serengeti National Park is the ideal spot to explore hot air balloon rides in Tanzania. In most regions, the Serengeti's endless plains are home to a diverse range of wildlife and stunning scenery. The Central area of Serengeti (Seronera), Southern Serengeti (Ndutu), Western Corridor, and Northern Serengeti are the most popular launching areas to enjoy hot air balloon rides.
Central Serengeti (Seronera)
Hot Air Balloon Safari operates all year round at Central Serengeti. Serengeti's central area, also known as Seronera, is an ideal place for game drives. Seronera river and other water sources found in the area provide a habitat for thousands of wildlife. Apart from wildebeest migration the central part of Serengeti is home to a variety of wildlife species, including the Big Five and big cats. Balloon Safari around this area is amazing as you will have a chance to see a variety of wildlife.
Southern Plains of Serengeti (Ndutu Area)
December to March is the ideal season for hot air balloon ride in Serengeti Southern Plains. The southern Serengeti, also known as the Ndutu area, draws thousands of ungulates for calving season, including wildebeest, zebra, gazelle, and impala. Ndutu grounds are very fertile, with well-nourished grasses, attracting herds of migration to the region. Presence of Ndutu and Masek Lakes makes Serengeti southern plains a completely undisturbed ecosystem and an ideal location for hot air balloon Safari.
Western Corridor
April to June is the ideal season for Hot air balloon Safari along Western. During this time of year, the Migration herds congregate within the area, hence attracting a number of predators. The existence of the Grumeti River supports the lives of hundreds of wildlife and plants. A hot air balloon ride along Serengeti's western corridor will make your Tanzania safari unforgettable.
Northern Serengeti
July to October is the ideal season for hot air balloon rides in Serengeti North. Thousands of ungulates such as wildebeest, zebra, gazelle, and Impala are likely to be spotted on the northern Serengeti at this time of the year. The major event at Serengeti North is Mara River crossing, which is the most spectacular event that attracts the majority of tourists for a visit. Viewing thousands of ungulates while in a hot air balloon ride is an incredible and one-of-a-kind experience. If you want to make the most out of your Tanzania safari, a hot air balloon ride should be on your bucket list.
Do you need expert tips on planning for your next safari in Africa?